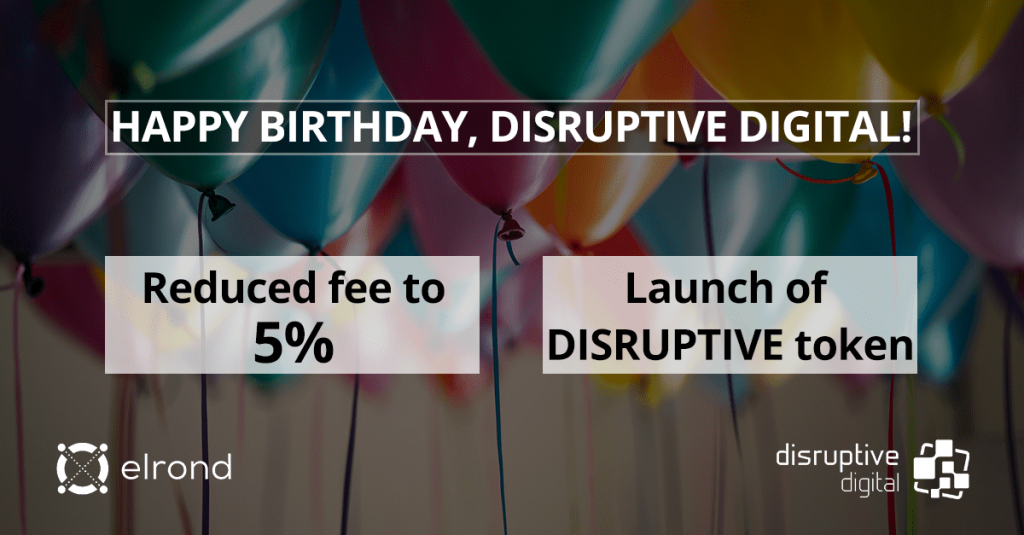 So, here we are. With 2 full years behind us and a lot more in front of us! Big plans ahead and a great amount of work is what the future brings for us!
Disruptive Digital's story actually starts a long time ago, back in 2011 when we started wondering about the importance of blockchain technology and crypto space. Gradually, our passion has led us to innovative solutions, while inspiring us to develop products and services needed to create a better, safer, and fairer world.
Then, the most disruptive and greatest thing happened: we got in touch with Elrond towards the end of 2019. At that time, we were given the opportunity to test the functions of the Elrond Network and we joined the narrow community. We were impressed by the extraordinary passion of the people from both the team and the community for making things work.
One year later, in the spring of 2020, we participated in the Battle of the Nodes, an ability test for becoming a good validator in which we had amazing results. We participated with 36 Nodes and every one of them matched the tests' requirements, reaching the 7th place by performance and 12th place overall, which was a great achievement.
On May 12th, 2020, therefore 2 years ago, Disruptive Digital had its first pre-mainnet official attestation, when the Nodes were in preparation for Genesis Staking. On this day, 2 years ago, we set our identity - ddigital - on our first Genesis Nodes, and Disruptive Digital's logo was uploaded on Keybase for visual identity & branding in Elrond explorer, for the first time.
And now, looking back on these 2 years, we can proudly say that we met the expectations and we always focused on our main goal: to create a world in which anyone can be their own bank and be able to manage their digital assets in a simple and safe manner.
As many of you already know, part of our vision is KryptoDots - an end user security/backup device compatible with Elrond web wallet, Maiar, and any other crypto wallet, for storing and securing the secret phrase. Here's a brief video about it: https://www.youtube.com/watch?v=PneSdpZ3L_E
We always put the technical part and our Disruptive Digital community in the first place. We always make sure we can provide the best infrastructure for our nodes, including redundancy, monitoring, and security. The infrastructure and the Nodes of the agency have always worked flawlessly, have never had any problems in these 2 years, had no downtime, and have never been offline. At the same time, we always care for every delegator of the Elrond ecosystem, continuously searching for the best solutions and incentives for them. Why? Because it's in our DNA!
That's why we prepared a double surprise for our delegators (and not only):
1. We will reduce the fee to 5% for both Disruptive Smart Contracts until the end of May! As you may know, we are a team with 2 Delegation System Smart Contracts: Disruptive Digital & Disruptive Unlimited. As a result of the reduced fee, the agency's APR will increase. So great news for our delegators!
2. We are super excited to announce the launching of the DISRUPTIVE-c20f7c token! We planned this a while ago and we are glad to officially share it with you! The token will have utility firstly in our ecosystem, for the acquisition of products and services on Kryptodots and afterward on other partner websites.
Our token will be distributed especially to the Disruptive Digital & Kryptodots community, according to certain conditions that will be communicated later. We will make sure to reward every delegator of us who is actively involved in our social channels, and promotes and sustains our community. We also plan to reward non-delegators that stand out through exceptional involvement in promotion, help, and support to Disruptive Digital, Kryptodots, and Elrond Network.
So make sure you follow us closely and get the latest news as they come!
Thank you all for being with us! We strongly believe that the ultimate goal of innovation should be the creation of a better future. We are in this together, we grow together.