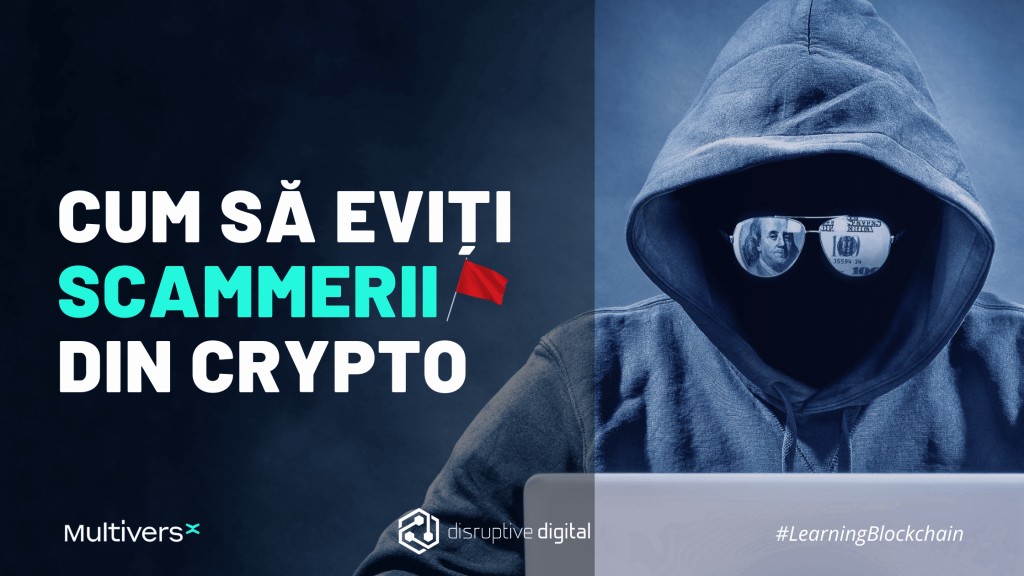 Spațiul cripto se extinde pe zi ce trece. Noii veniți ori încearcă să înțeleagă cum funcționează blockchain-ul, ori vor doar să investească în criptomonede. Chiar dacă atât tehnologia, cât și activele digitale au un potențial enorm de a schimba lumea pe care o cunoaștem astăzi, există și un punct vulnerabil în tot acest ecosistem, în special pentru începători. Ghicești la ce ne referim?
Așa-i! Vorbim despre scammeri (în traducere liberă escroci)! Dar cum pot aceștia să afecteze călătoria oamenilor în spațiul cripto, mai ales la început? Hai să vedem! 👇🏼
Începător în spațiul cripto
Dar să începem cu începutul! Din exterior, spațiul cripto s-ar putea să nu arate chiar așa bine pentru toată lumea, mai ales într-un bear market. Există oameni care nu înțeleg importanța criptomonedelor și a tehnologiei blockchain. Deci, dintr-un punct de vedere total subiectiv, ei susțin că universul cripto nu este altceva decât o înșelătorie. Din fericire, nu este adevărat.
Hai să clarificăm.
Dacă ești nou în spațiul cripto, știm că s-ar putea să te simți copleșit. Dar ține minte că e foarte important să-ți faci propria cercetare (DYOR). Într-adevăr, există o mulțime de informații de asimilat: termeni, strategii, recomandări și o mulțime de articole educative. Te poți pierde prin toate astea încercând să înțelegi cum stau lucrurile.
În plus, spațiul cripto a și arătat destul de sumbru în ultima vreme. Colapsul FTX de la începutul lunii noiembrie este în top și a avut un impact negativ pentru mulți alți actori din industrie. Această criză a venit într-un mediu macroeconomic deja instabil, așa că nu a făcut decât să accelereze căderea. Dar ceea, ce vrem noi să transmitem în acest moment este următorul lucru: indiferent de cum arată piața într-un anumit moment, întotdeauna trebuie să ai conduită, disciplină și prudență în lumea cripto.
Nu îți vom oferi niciun sfat financiar și nu îți vom vorbi despre investiții sau trading. Suntem aici pentru a-ți arăta cele mai comune tipuri de escroci și cum să stai departe de aceștia, indiferent de proiectul în care ești implicat.
Ca să nu mai vorbim de faptul că te sfătuim oricum să deții un portofel non-custodial și să-ți asumi întreaga responsabilitate pentru activele tale digitale. Acest lucru, desigur, implică să nu împărtășești fraza secretă cu nimeni altcineva.
Ok, acum că am clarificat asta chiar de la început, putem analiza lucrurile mai în profunzime. Să vedem cele mai frecvente escrocherii și cum să le eviți!
Cele mai frecvente scam-uri (escrocherii)
Oamenii sunt creativi, putem fi siguri de asta. Nici escrocii nu sunt mai prejos. În zilele noastre, există mai multe moduri de înșelătorii în spațiul cripto, în special pentru începători. Și asta nu pentru că este ceva în neregulă cu aceștia, ci pentru că există încă destul de puține lucruri cunoscute în spațiul cripto, în special la început. Escrocii dau mari speranțe, mai ales în câștiguri de sume mari. Ofertele lor sunt de cele mai multe ori tentante. Deci, hai să vedem cele mai frecvente escrocherii și semnele pe care ar trebui să știi.
Uzurparea identității
Escrocii creează conturi de rețele sociale false pretinzând că sunt persoane publice importante, moderatori ai anumitor comunități, admini sau membri ai unor echipe. După aceea, trimit mesaje private cu tot felul de promisiuni. Le este mai ușor oamenilor să cadă în capcană atunci când văd un mesaj de la o persoană publică cunoscută, fără să se gândească la faptul că e posibil să fie doar niște escroci. De reținut că adminii sau membrii echipelor nu vor contacta niciodată oamenii prin mesaje private.
Scheme de investiții și giveaway-uri false
Indiferent dacă escrocii se dau drept o persoană publică sau nu, promit câștiguri mari după ce tu faci o plată în avans sau plătești o taxă. Fii sigur că îți va fura banii și nu vei mai auzi niciodată de ei. Acesta este unul dintre cele mai comune tipuri de escrocherii.
Lansările sau giveaway-urile neobișnuite sunt mai mult ca sigur înșelătorii, mai ales dacă îți solicită o plată în avans pentru a putea participa. Mai mult, este o practică foarte comună ca escrocii să promită că-ți vor multiplica investiția. Alți escroci se grăbesc frecvent să comenteze că au participat deja în acest fel și au câștigat o sumă imensă de bani. Nu uita: nimeni nu-ți va înmulți investiția și ți-o va oferi înapoi, oricât de convingător pare să fie!
Scheme Rug pull
Când ceva pare să fie prea frumos ca să fie adevărat, de obicei așa e. 🙂 În acest tip de înșelătorie, creatorii pompează un nou proiect, monedă, token sau NFT cu multă publicitate. După ce obțin destui investitori, schimbă criptomonedele în fiat și în cele din urmă fug cu banii. Una dintre cele mai cunoscute scheme de tip Rug pull a fost scamul monedei Squid.
Scheme Pump and Dump (P&D)
Escrocii creează FOMO pe un anumit proiect sau monedă, chiar dacă este ceva obscur. Se pot asocia cu "influenceri" care trăiesc în lux și vând imaginea unei vieți pe care și tu ai putea s-o ai dacă investești în proiectul lor.
Scopul lor este de a construi o comunitate mare care poate investi într-o anumită monedă, dar doar în anumite momente menționate de ei. Membrii comunității sunt invitați să investească cât de rapid și de mult pot, atunci când moneda este la un preț mic. După ce moneda va fi pompată artificial și va atinge o valoare mai mare, comunitatea ar putea vinde moneda și obține un "profit frumos". Moderatorii acestei scheme orchestrează momentele în care oamenii pot cumpăra și vinde moneda. Dar, desigur, doar câțiva reușesc să vândă la prețuri mari în câteva secunde și sunt în mare parte tot moderatorii acestei scheme.
Scheme Ponzi
Sunt niște scheme frauduloase. Pe scurt, primii investitorii primesc profit datorită investițiilor celor ulteriori. Și povestea continuă. Poate fi o schemă complicată și periculoasă deoarece pare destul de durabilă până când… explodează. Acesta este motivul pentru care ar trebui să-ți faci propriul research (DYOR)!
Scam-uri romantice
Oricât de ciudat ar fi, este o practică comună pentru escroci. Odată cu integrarea digitalului în viața noastră de zi cu zi, relațiile online sunt și ele mai frecvente. Așa că escrocii folosesc oportunitatea asta pentru a crea relații false și pentru a manipula oameni. În cele din urmă, își conving partenerii să le trimită bani sub formă de criptomonede.
Site-uri de tip phishing 
Sunt site-uri false. Escrocii ademenesc oamenii să dea click pe linkuri rău intenționate către aceste site-uri web. Ulterior, adună informațiile tale personale, cum ar fi numele, e-mailul, adresa etc. prin mai multe strategii de înșelătorie, cum ar fi "Trebuie să resetați parola contului".
Scopul lor final este să obțină informațiile cheie ale portofelului tău - indiferent dacă ai un portofel custodial într-un exchange sau unul non custodial și nu ai stocat în siguranță fraza secretă. Fii întotdeauna extrem de vigilent împotriva acestui tip de înșelătorie. Nicio companie nu-ți va cere să resetezi parola, decât dacă tu soliciți asta. De asemenea, niciun admin sau platformă nu va avea nevoie de fraza secretă a portofelului tău. Ea e menită să rămână doar la tine, așa că NU TRIMITE NICIODATĂ NIMĂNUI FRAZA TA SECRETĂ.
Cum să eviți scammerii din crypto?
💡 Fii vigilent
Așa cum am mai spus, dacă ceva sună prea bine pentru a fi adevărat, cel mai probabil NU este! Indiferent de tipul de înșelătorie pe care scammerii l-ar alege, tu trebuie să fii în alertă tot timpul. Verifică fiecare detaliu și ia în considerare orice semn ce ar putea duce la un scam. Gândește-te de două ori înainte de a-ți trimite informațiile personale cuiva. În Universul Crypto trebuie să fii foarte vigilent.
💡 Pune-ți întrebări relevante
De ce ți-ar face promisiuni unii oameni pe care nu îi cunoști? Ce câștigă ei? De ce te-ar ajuta atât de ușor cu ceva? De ce ți-ar pune atâtea întrebări? Ce pot face ei cu informațiile contului tău? Cum le pot folosi? Când ai îndoieli, este important să-ți pui câteva întrebări pentru a clarifica o situație.
💡 Nu te încrede într-un "admin" care îți scrie primul un mesaj
În majoritatea cazurilor (să spunem 99,9%), dacă cineva îți trimite primul un mesaj, nu este un admin, indiferent de numele pe care pare să-l aibă la profil. Este doar cineva care fură identitatea unui admin și vrea să te ademenească în schema lui. Toată lumea știe că adminii nu vor trimite ei mai întâi un mesaj. Așa că acordă întotdeauna atenție acestui detaliu.
💡 Nu da click pe link-uri suspecte
Dacă primești invitația de a da click pe un anumit website, trebuie să verifici întotdeauna în prealabil că adresa URL a site-ului este exact aceeași cu adresa oficială a platformei. Într-un scam sunt de cele mai multe ori aproape la fel, dar nu în totalitate.
De asemenea, verifică adresa de e-mail a expeditorului sau contul de social media, în funcție de platforma pe care te-a contactat. Și dacă totuși dai click pe un link suspect din greșeală, trebuie să eviți distribuirea informațiilor personale. Cineva îți poate înregistra detaliile de conectare și îți poate fura, în cele din urmă, fondurile. În plus, asigură-te că nu îți conectezi portofelul digital nicăieri până când nu verifici cu atenție site-ul.
Chiar dacă nu primești un link suspect de la cineva și vrei doar să accesezi un site sau un exchange, te sfătuim insistent să mergi întotdeauna direct pe site-ul respectiv, pentru a te feri de escrocherii de tip phishing. Cum poți face asta? De exemplu, poți face un marcaj în bookmarks cu pagina exchange-ului sau poți salva linkul în notițe și îl accesezi de fiecare dată când ai nevoie.
💡 Nu te aștepta să îți înmulțească cineva banii
"Îmbogățește-te rapid cu …" ar putea fi motto-ul escrocului, dar nu ar trebui să-l crezi niciodată. Fii cu băgare de seamă, oportunitățile de acest gen nu sunt reale, deci nu sunt realizabile decât într-un scenariu ce implică fraudă. Există totuși o șansă de a-ți "multiplica" fondurile rapid în cazul în care faci trading. Dar dacă cineva îți promite că-ți va înmulți investiția, fii sigur că ești vizat de un escroc.
💡 Raportează scammerii
Dacă trimiți cuiva criptomonedele tale sau le pierzi, este foarte puțin probabil să le mai recuperezi. Dar ce poți face este să raportezi escrocii la Centrul de asistență, dar poți raporta conturile scammerilor și pe platformele de social media unde îi întâlnești (Facebook, Twitter, Youtube etc). Pe Telegram, îi poți raporta la @notoscam. În ecosistemul MultiversX, poți raporta escrocii pe grupul de Telegram @ElrondScambusters.
💡 Oprește mesajele private de la necunoscuți pe Telegram & Discord
Telegram și Discord sunt platformele unde vei găsi cu ușurință escroci. Sau... te vor găsi ei pe tine. 🙂 Fiind hub-uri pentru mai multe comunități cripto, aceste platforme sunt adesea vizate de persoane frauduloase. Se întâmplă adesea ca oamenii să fie abordați de scammeri în mesaje private, mai ales după ce au avut o conversație într-un grup. Ce poți face pe Discord este să dezactivezi mesajele private de la persoane necunoscute. Pe Telegram, ai opțiunea de a actualiza setările pentru a preveni apelurile aleatorii și invitațiile de adăugare în anumite grupuri.
💡 Păstrează-ți fraza secretă într-un loc sigur
Și când spunem asta, ne referim la o locație offline, pe care doar tu o știi. Îți dăm un sfat: Kryptodots este cea mai bună modalitate de a codifica, stoca și proteja activele digitale. Kryptodots este un dispozitiv offline fabricat din oțel inoxidabil. Scopul său este de a proteja fraza secretă, prin urmare, și criptomonedele tale.
Singura alternativă rezonabilă la Kryptodots este hârtia. Dar cu toții ne putem imagina vulnerabilitatea ei. Se poate degrada cu ușurință, poate lua foc sau se poate uda și deveni astfel inutilă. Și nu e doar asta. Să presupunem că alegi să laminezi hârtia pe care ți-ai notat fraza secretă. Este adevărat, obții un nivel mai ridicat de protecție, fiind impermeabilă, dar nu cel mai bun. Încă poate arde cu ușurință și, în plus, cuvintele tale nu vor fi codificate. Deținerea unui Kryptodots te asigură și de această protecție.
💡 Nu da fraza secretă nimănui
O fi acesta ultimul punct de pe lista noastră, dar cu siguranță este unul dintre cele mai importante. Fraza secretă a portofelului tău este unică, deci joacă rolul unei chei pentru portofelul tău. Dacă fraza ta secretă n-ar mai fi secretă pentru cineva, acesta ar avea acces și la portofelul tău, deci banii tăi ar fi compromiși.
Fraza secretă este și modul de recuperare a unui portofel. Dacă ți se strică calculatorul, hard diskul este corupt sau dacă pierzi Ledgerul (portofelul hardware), poț descărca din nou același portofel software sau poți cumpăra un alt portofel hardware și utiliza copia de rezervă a frazei secrete pentru a recăpăta accesul la portofel. În afară de acest caz, nu va trebui să introduci fraza în nicun alt loc. Dacă cineva ți-o cere, este un scam. Nu o da mai departe, și asigură-te că raportezi persoana respectivă.
Amintește-ți că, atât timp cât nu dai nimănui fraza secretă, activele tale digitale sunt în siguranță.
Crypto space is increasing with newcomers day by day. Some try to understand how blockchain works, while others just want to invest in cryptocurrencies. Even if both technology and digital assets have a huge potential in changing the world we know today, there is a soft spot in this ecosystem, especially for newbies. Take a guess?
Oh yes, that's right! We're talking about the scammers! But how can they affect people's journey into the crypto space, especially in the beginning? Let's dive in! 👇🏼
New to the crypto space?
First things first! From the outside, the crypto space might not look so good for everyone, especially in a bear market. There are people who don't understand the importance of the crypto world and the potential of blockchain technology. Yet, from a biased point of view, they argue that crypto is nothing but a scam. Fortunately, it's not true.
So we're here to clear that up.
If you're new to crypto, we know you may feel overwhelmed. It's quite true what they say: do your own research (DYOR). But there is a lot of info to assimilate: terms, strategies, recommendations, and a lot of articles you can lose yourself in trying to catch up with everything.
Also, the crypto space looked quite grim lately, with the early November FTX collapse being on top and negatively impacting a lot of other industry actors. This crisis came in an already unstable and bad-looking macroeconomic environment, so it only accelerated the fall. But what we want to convey at this point is this: no matter how the entire industry may look at a specific moment, you should always have crypto conduct, discipline, and cautiousness.
We won't give you any financial advice, and we won't talk about investing or trading. We're here to show you the most common types of scammers and how to stay away from them, no matter what project you're involved in.
Not to mention that we strongly advise you to own a non-custodial wallet and to take full responsibility for your digital assets. This, of course, implies not sharing your seed phrase with anyone.
Ok, now that we have cleared that up straight from the beginning, we can go deeper. Let's see the most common scams and how to avoid them!
The Most Common Scams
People are creative, we can be sure of that. Scammers are not far, either. Nowadays, there are quite a several ways of scamming people in the crypto space, especially beginners. And that's not because there is something wrong with the latter, but because there is quite little known in the crypto space, yet. Scammers give high hopes, especially for winning great amounts of money. Their offers are certainly tempting. So, let's see below the most common scams and red flags you should know about.
Impersonating
Scammers create fake social media accounts pretending to be important public figures, community moderators, admins, or members of some project teams. After that, they send private messages with all kinds of promises. It's easier for people to fall into the trap when they see a message from a known public figure, not thinking they are actually scammers. Admins or members of teams will never ever contact people by private messages first.
Investment schemes & Fake Giveaways
Whether the scammers impersonate a public figure or not, they promise big wins after you make a payment in advance or pay an upfront fee. After that, they steal the money and you'll never hear from them again. This is one of the most common types of scams.
Also, unusual drops or giveaways are scams. If they request from you a payment in advance in order to be able to participate, be sure it's a scam. It's also a very common practice for scammers to promise to multiply your investment. Other scammers frequently rush to comment that they already participated in this way and won a huge amount of money. Just remember this: no one will multiply your investment and give it to you, no matter how convincing they seem to be!
Rug pull schemes
When it looks so good to be true, it's usually NOT. 🙂 In this type of scam, the creators pump a new project, coin, token, or NFT with a lot of publicity. After getting enough investors, they exchange the cryptocurrencies into fiat and eventually run away with the money. One of the most known rug pulls was the Squid coin scam.
Pump and Dump (P&D) schemes
The fraudsters create FOMO on a particular project or coin, even if this is an obscure one. They can associate with some "influencers" who live luxurious lives and sell an image of a life that you could also have if you invest in their project.
Their goal is to build a big community that can invest in a particular coin, only mentioned at specific moments. The members are invited to invest fast and as much as they can, while the coin is at a low price. After the coin will artificially be pumped and reach high value, the community could sell the coin and get a "beautiful profit". The moderators of this scheme orchestrate the moments when people can buy and sell the coin. But of course, only a few manage to sell at high prices within a few seconds, and they are mainly within the moderators of the game plan.
Ponzi schemes
They're fraudulent schemes. Long story short, early investors receive profits only with the investments of recent investors. And the story goes on. This type of scheme can be a tricky one, as it seems quite sustainable until it blows. This is the reason why you should make your DYOR!
Romance Scams
As strange as it may be, it's a common practice for scammers to use this type of fraudulent arrangement. With the digital rise in our daily life, online relationships are more frequent, too. So scammers use fake relationships to manipulate people. Eventually, they persuade their partners to send money in the form of cryptocurrencies.
Phishing Sites
What are they? Well, mostly fake websites. Scammers usually lure people into clicking some malicious links to these websites. Afterward, they gather your personal info, such as name, email, address, etc with several scam strategies such as "You need to reset your account password".
Their ultimate goal is to obtain your wallet's key information - whether you have a custodial wallet on an exchange, or a non-custodial one and have poor storage of your seed phrase. Always be extremely vigilant against this type of scam. No company will ask you to reset the password unless you request it. Also, no admin or platform will ask for your seed phrase. That's only meant to stay with you, so you should NEVER EVER SEND YOUR SEED / BACKUP PHRASE.
How to stay away from scammers?
💡 Be Vigilant
As we said before, if it sounds too good to be true, it's most probably NOT! No matter the type of scam, you need to stay aware all the time. Check every detail, and take into account any sign that it may lead to a scam situation. Think twice before you send your personal info to someone. Crypto Universe is where extreme vigilance should come to play.
💡 Ask yourself some relevant questions
Why would some people you don't know make a promise to you? What's in it for them? Why would they help you so easily with something? Why would they ask so many questions? What can they do with your account information? How can they use it? When in doubt, it's important to ask yourself some questions in order to clarify a situation.
💡 Don't trust an "admin" that sends you a message first
In the majority of cases (let's say 99,9%), if someone messages you first, he's not an admin, no matter what name he appears to have. It's just someone who steals the identity of an admin and wants to lure you into his scheme. Everybody knows the admins won't message first. So always pay attention to this issue.
💡 Don't click on suspicious links
If you receive the invitation to click on a specific website, you need to always verify in advance that the website URL is exactly the same as your platform's address. Most of the time, they are almost the same, but not entirely.
Also, verify the email address of the sender or the social media account, depending on which platform he contacted you. And if you click on a suspicious link by mistake, you absolutely need to avoid sharing your personal info. Someone may record your login details and can steal your assets, eventually. Also, ensure you don't connect your wallet anywhere until you don't double-check the site.
Even if you don't receive a suspicious link from someone and just want to access a website or exchange, we strongly advise you to always go directly to the specific website to stay away from phishing scams. How can you do that? You can make a bookmark with the exchange page or save the link in your notes and access it every time you need to.
💡 Don't send money and expect to have them multiplied or returned
"Get rich quickly" might be the scammer's motto, but you should never buy it. Be cautious, these opportunities are not real, therefore not achievable. The huge rapid gains are only possible in a fraudster scenario. Only you can "multiply" your funds if you are into trading. If someone promises you to multiply your investment, be sure you could be a targeted victim of a scammer.
💡 Report the scammers
Most probably, if you send your funds to someone, or lose them, it's highly improbable to recover them. What you can do to prevent that is this: if you see a crypto scammer (Facebook, Twitter, Youtube, etc), you can report it to the Support Center. On Telegram, you can report the scammers to @notoscam. In the MultiversX ecosystem, you can report the scammers on the @ElrondScambusters Telegram group.
💡 Turn off your Telegram & Discord DMs
Telegram and Discord are the most popular platforms where you'll find scammers easily. Or… they will find you. 🙂 Being a hub for several crypto communities, these platforms are often targeted by fraudulent people. It's very common for people to be assaulted with private messages, especially after they had a conversation in a group. What you can do is turn off DMs from unknown people on Discord. On Telegram, you have the option to update the setting in order to prevent random calls and group invites.
💡 Store your seed phrase in a secure location
And when we say that, we mean an offline location, which only you know. We can give you a tip: Kryptodots is the best way to encode, store, and protect your digital assets. Kryptodots is an offline device made of stainless steel. Its scope is to protect your secret phrase, therefore, your digital assets. 
The only reasonable alternative to the Kryptodots is a piece of paper. But we can all imagine its weaknesses. It can easily degrade, catch fire, or get wet and become useless. And it's not just that. Let's say you choose to make a laminated paper that's impermeable. It's true, you get a higher level of protection, but not the best one. It still can burn easily and also your words wouldn't be encoded. Owning a Kryptodots assures you of this protection, too.
💡 Don't share your seed phrase with anyone
It might be the last point on our list, but definitely not the least. This is actually the most important thing for you to remember. Your wallet's seed phrase is unique and therefore it's like the key to your wallet. Anyone who has your seed phrase also has access to your wallet. So your money would be compromised if they have your seed phrase.
Your seed is the master key to your wallet, also meaning that it has all the information needed to recover the wallet. If your computer breaks, your hard drive becomes corrupted or even the hardware wallet, i.e. the Ledger, gets lost, broken, or stolen, you can download the same software wallet again or buy another hardware wallet and use the seed phrase backup to get your assets back. Apart from that, you will not need to enter your seed phrase anywhere. If someone asks for it, it's a scam. Don't share it and make sure you report it. 
Remember that as long as you don't share your seed phrase with anyone, your digital assets are safe.