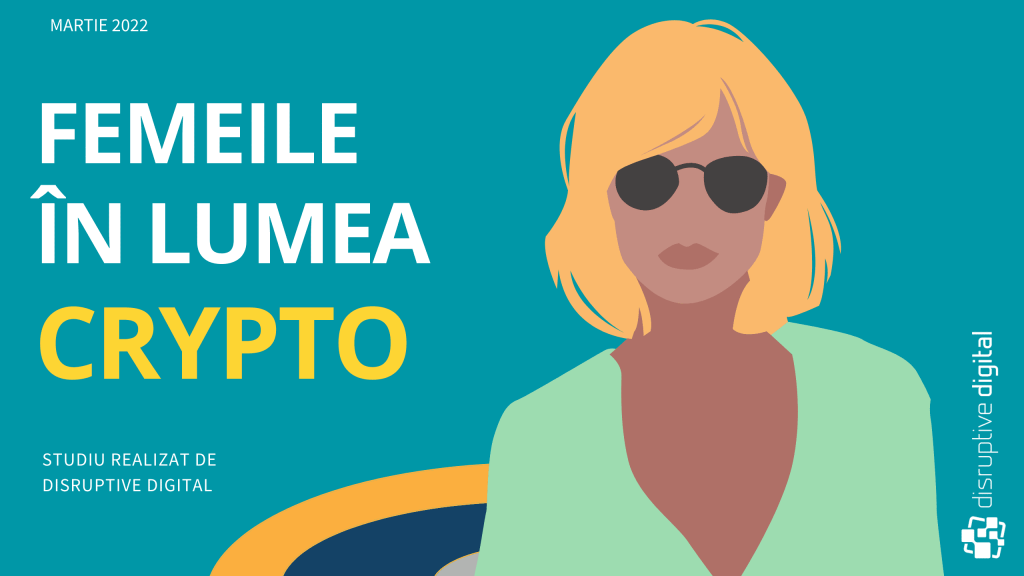 Campanie de awareness
Pasul 1. Studiul
8 martie este o zi în care celebrăm femeile. Pornind de la acest lucru, ne-am gândit să facem mai mult de atât, ceva substanțial, ceva care să contribuie cu adevărat la dezvoltarea acestora și să le dea putere și curaj să devină game-changers în această lume.
Așa că astăzi lansăm oficial o Campanie în România – pentru moment – care comunică ideea că femeile pot și ar trebui să aibă acces la lumea crypto. 
Pornim de la insight-urile pe care le avem în urma studiilor efectuate în zona de crypto, care arată că există inegalitate între bărbați și femei atunci când vorbim despre a deține și investi în cryptomonede. 
Noi credem că lumea crypto nu este doar o lume a bărbaților, și că femeile ar trebui să fie implicate mai mult. Scopul final este ca fiecare să poată deveni  propria bancă.
Pentru a face acest lucru, noi ne luăm angajamentul de a depune un efort consistent în această direcție, de a oferi educație în zona de blockchain prin traininguri, videoclipuri, articole, tutoriale și discuții din lumea crypto pentru femeile care doresc să ia atitudine și să învețe mai multe despre acest domeniu.
Prin urmare, invităm fiecare femeie din România să completeze Studiul Femeile în lumea crypto pe care l-am lansat astăzi. Este nevoie de 5 minute pentru a-l finaliza și trebuie să recunoaștem că suntem cu adevărat entuziasmați și curioși să aflăm o mulțime de lucruri despre percepțiile acestora cu privire la Universul Crypto. Ne propunem să descoperim nivelul de interes al femeilor pentru spațiul crypto și blockchain, nivelul de cunoștințe și dorința lor de dezvoltare în aceste domenii pe viitor.
Studiul va fi disponibil pentru completare în perioada 8 - 29 martie, timp de 3 săptămâni. După o analiză amănunțită a răspunsurilor primite în cadrul Studiului, vom lansa un training sub forma unei prezentări pe 1 aprilie. În perioada următoare, vom lansa și multe alte materiale educaționale. Așa că fiți cu ochii pe noi!
Vrem să construim un ecosistem și să creăm o comunitate de femei puternice care știu care sunt valorile lor și își pot lua soarta în propriile mâini. Asta este ceea ce ne propunem.
Așa că ajută-ne să le susținem și distribuie inițiativa noastră. Mulțumim!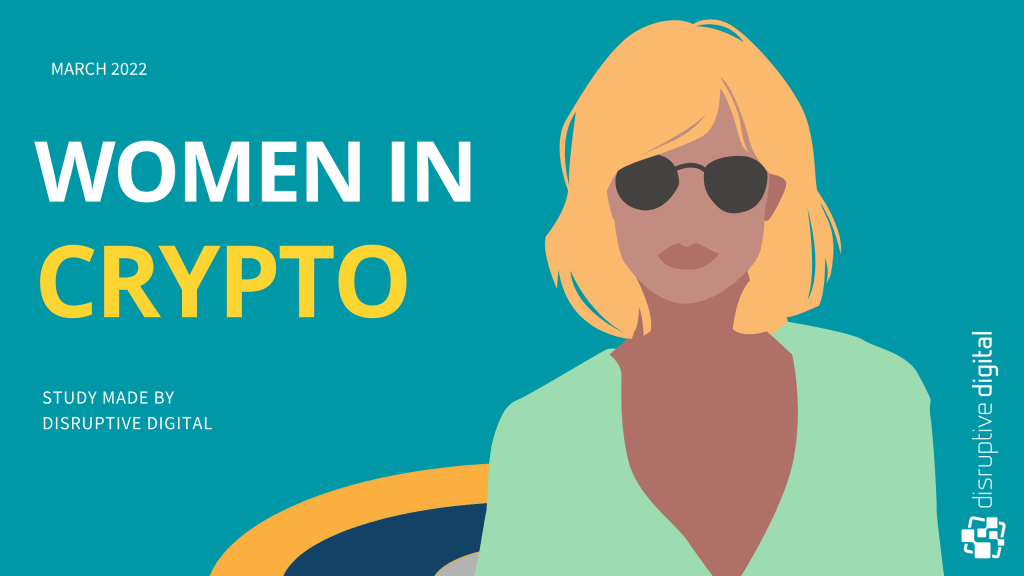 Awareness Campaign
Step 1. The study
8 of March symbolizes the celebration of women. With this in mind, we thought of doing more for them, something substantial, something that would really contribute to their development and empower them to become game-changers in this world. 
So, starting today, we officially launch an Awareness Campaign in Romania - for the moment - which communicates the idea that women can and should have access to the crypto world. 
We start from the insights we get from the crypto studies which show that there is a gender inequity when it comes to owning and investing in crypto.
We believe that the crypto world isn't just a man's world and that women should be involved in more. The final goal is that everyone could become their own bank.
In order to do that, there is an effort we will put into work in order to provide blockchain education through training, videos, articles, tutorials, and discussions within the crypto world for these women who want to take a stand and learn more about it.
Therefore, we invite every Romanian woman to complete the Women in Crypto Study we are launching today. It takes 5 minutes to complete and we must say that we are really enthusiastic and curious to find out a lot of stuff about their perceptions regarding the Crypto Universe. We aim to discover the level of interest of women in crypto and blockchain spaces, the level of knowledge, and their desire for development in these areas in the future.  
The Study will be available for completion between 8 -  29 March, for 3 weeks. After a thorough analysis of the answers received in the Study, we will launch training in the form of a presentation on the 1st of April. In the following period, we will launch many other educational materials. So keep an eye on us! 
We want to build an ecosystem and to create a community of powerful women who know what their values are and can take their fate into their own hands. This is what we aim for.
So help us support them and share our initiative. Thank you!
Choosing a Staking Provider comes with quite an effort and research. You should consider a few criteria to make sure you make the best choice in accordance with your expectations and objectives. There are many options when it comes to staking providers (SP), so choose wisely before you stake your EGLD
First things first: what is Staking?
In the cryptocurrency world, staking refers to "locking up" a digital asset by "staking" it, agreeing to hold it in a wallet on a Proof-of-Stake (PoS) blockchain network. By agreeing to stake some or all of your holdings, you help ensure that the blockchain on which the assets are staked, operates correctly and securely.
In exchange for helping to secure a PoS blockchain network, participants who stake their coins receive a share in the block reward in the form of newly minted coins. Staking is an integral part of a Proof-of-Stake (PoS) consensus mechanism and is designed as an alternative to Proof-of-Work that maintains the long-term security and reliability of a protocol.
Simply put, if you own some cryptocurrencies, you can "lock" them for securing the blockchain and get rewards in return. So, in the long run, you can earn a lot of coins. This is one of the easiest ways to have a passive income from staking crypto.
There are 3 ways of staking
You become a Validator
You create a node with at least 2500 EGLD locked in a system SmartContract (this is the minimum limit for creating a node until phase 4). The nodes are important for the Elrond network because they validate the transactions and they assure the efficiency and security of the network. The nodes are required to run on secure, reliable, and high-performing servers 24/7.
In order to stake a node, you need to have a significant amount of EGLD and you need to assure the nodes have 100% uptime, are installed on very secure servers, and run the latest software version on the mainnet. A freshly stacked node is not producing rewards immediately. It is added to a queue. Note that in staking Phase 3.5 there is a maximum of 3200 nodes in the entire network, so only when a node from these 3200 becomes jailed, or someone unstakes a node, there is the possibility that your node can become eligible.
If a validator has poor performance, the network will jail it, which means that it will no longer be able to participate in consensus, nor will it produce rewards. The node must be unjailed before it can resume its role as a validator.
This way of staking is highly unaffordable for most people due to the pretty high amount of EGLD needed.
You become a Staking-as-a-Service Provider
To become an SP you'll need 1250 EGLD to start a smart contract and be able to accept staking from anyone. A node will be added to the queue once the staked sum reaches 2500 EGLD (1250 EGLD from initial SC + 1250 from outside staking). Note that the initial 1250 EGLD are locked as a network warranty and can't be unstaked until all the delegators' funds are withdrawn and the initial SC is closed.
You will also need to run nodes in the same manner as a Validator + you'll need to manage the Delegation System Smart Contract.
As this way of staking is still unaffordable for most people, and it's not as easy to maintain the nodes without some technical background experience and constant efforts, you may consider the third way of staking which is the most accessible one.
You can stake your EGLD with a staking provider
This way, you are able to delegate your tokens to existing nodes operators and professional validators (staking providers) who accept delegations. They take care of the technical aspect of the staking process, which is the reason why the platform charges a fee - usually a percentage of the staking rewards.
The minimum amount of eGold that you can stake to any staking provider is 1 EGLD. Thus, it is accessible to everyone.
Now, what you should take into account when choosing a Staking Provider
We know that usually, you may refer to it as "a staking agency" but we choose to call it "Staking Provider", as this is the correct naming.
There are a few key points:
Technical experience - i.e. it has the capacity of providing a solid infrastructure for the Staking Provider's nodes, including redundancy, monitoring, and security running their services in geographically dispersed data centers using multiple providers to minimize planned or unplanned downtime. They need to operate Validator nodes at high efficiency.
Transparency - is one of the most important things. All the info that the provider communicates to the community needs to be transparent, and as clearly as possible.
Information - it's essential that you get clear and accurate information about any questions you may have and always-on support. This is why you need to search for the Telegram group and, if you are even more interested, all of the other media channels of the Staking Provider (Website, Twitter, Facebook, Linkedin, Youtube, Medium) and see how and what they communicate, in order for you to know if they are trustworthy.
Sufficient nodes - usually, it's good that a provider has several nodes. But note that it's also essential that the entire system nodes are distributed to as many providers as possible. Thus, the network can truly become decentralized. Returning to our point, the provider should assure that the added top-up is big enough so that the risk of losing the node is lower, in case of the withdrawal of a high quantity of EGLD from the Staking Provider, but small enough to maintain a high APR. Also, having more nodes, the Provider maintains a linear APR with lower fluctuations between epochs.
Normal fees - too much or too little may raise some questions on the reliability of the Staking Provider
Official Staking Providers - they already proved their commitment to the Elrond ecosystem development
Clear overview of Elrond Network - how it operates from a technical point of view and what the entire ecosystem means from an economic perspective.
Clear long-term vision - that is aligned with Elrond's vision.
Products and services - everything that the Provider builds for the community in order to create a better, safer, and more secure world.
Other key info you need to know
Staking is non-custodial. No one has access to your funds.
That means that no Staking Provider you choose to stake your digital assets with will have access to your funds or to your private key. Also, the provider has no control or influence over the funds. The staking process will run securely through a smart contract using the Maiar app or Elrond web wallet. The Staking Provider operates the technical part so that you can be stress-free from it. The charge for that is the SP (staking provider) service fee which is already included in the APR displayed in the Maiar app or on the Elrond Web Wallet.
The staking can be done by anyone through the Maiar app or Elrond Web Wallet.
The top-up and the queue list
The system is done in a way that a Staking Provider can start with an initial fund of 1250 EGLD (valid for Phase 3.5) and be open to accepting staking from anyone. When the amount of 2500 EGLD is reached, the first node becomes active and enters the queue list. As more EGLD enters in the contract, this EGLD will become top-up. When the amount of 5000 EGLD is reached, the second node could be activated if the SP wishes to activate more nodes (entering the queue list) or can remain as a top-up if the SP doesn't wish to activate more nodes. And this process can continue in the same way for the following nodes. It is worth mentioning that for every EGLD that is staked on a queue node that stake doesn't produce reward therefore the SP's APR is significantly diminished. 
Capped vs uncapped Staking Providers
Any Staking Provider should maintain some top-up in order to safely operate their service. The top-up acts as a buffer - in case some users unstake their funds - the Staking Provider should have enough stake not to lose nodes.
The Staking Providers that have capped their staking don't accept any more staking from other EGLD holders once their cap has been reached. They do this in order to maintain a relatively higher APR for the delegators by keeping a lower top-up per node.
For the Staking Providers that go with an unlimited cap, the APR can go down if more and more users stake their coins, because the Top Up APR comes with a small penalty to incentivize SP to care for more nodes thus contributing to a stronger and more secure network. However, since Phase 3.5 the Top Up APR and Base APR have been adjusted not to make such a big difference, helping the small SPs to catch up with the rest of the top SPs, helping the network decentralization.
The first 2500 staked EGLD to a single node is considered Base Stake, what is extra is considered Top Up stake.
As you can see, there's a fine equilibrium that any Staking Provider should be able to achieve respecting his own business model by choosing the right amount of top-up per node or going uncapped.
It must be borne in mind that the network APR is a variable thing, depending on the total network stake and on the yearly issuance percentage/transactions volume. So the correlation is as follows:
the more network stake - the lower network APR | the opposite is also true
the lower yearly issuance percentage - the lower network APR | every year the issuance percentage gets lower
if the fees captured by the network from the transactions executed within the network exceed the issuance rate then the issuance stops and the APR starts to grow | meaning that the network APR grows with the adoption
The Staking Providers APR is tightly correlated with the network APR and also with each provider's interest and strategy.
Helping the decentralization
Thinking long term, any of us should have decentralization as our first goal because this guarantees us a fundamental and essential principle of the blockchain. Without this, the blockchain no longer makes sense. This means we encourage anyone to stake with small and trusted/reliable Staking Providers. DYOR (Do Your Own Research) to find out the SP that meets your needs.
All of these being said, you can be sure that now you know what to check when choosing a staking provider. Also, you found out that staking is non-custodial, even if you stake with a rogue SP, being a non-custodial service no one has access to your funds. All the damage that can be done is just the waiting time for the unstake period (10 days).
If you read so far and you are not a beginner anymore, not new in staking / or when you feel ready and are up for a bigger challenge there is always the next level: Staking-as-a-Service Provider. You can upgrade your IT skills and join the trailblazers: the validators' team.
Any choice that you make on the staking provider must be documented, first.
There are several ways to make a passive income using blockchain technology. In this "groundwork" article, we will tell you the basics about staking and lending. You will also find out why investing in eGold is a great idea.
First, let's have a clear understanding of some terms. What is blockchain?
Blockchain — is a shared immutable, digital ledger of transactions and tracking assets that are duplicated and distributed in the entire network of computers that are part of a blockchain.
Blockchain technology is valuable because it has many applications in many industries. Here are some that we find interesting:
Keeping medical records, legal records, school records, etc.
Signing legal documents, property deeds, etc.
Preventing elections fraud and any kind of voting
Helping the 1 billion people who from various reasons can't have a bank account, but have internet, have a wallet with their earnings, and access them
Basically, any transaction that needs to be private, but transparent, that might also need to be auditable, can be made via blockchain technology without a third party interaction, with no fees and zero room for fraud.
Transactions tracking and recording are not the bottleneck anymore
A digital ledger like the blockchain is very useful in many industries, but can it be scaled for the whole world to use this technology?
Bitcoin is the historical cryptocurrency connected to blockchain and due to its fame and market interest, it became "the" main use of blockchain in the eyes of many. We said "historical" because it was the first one, but also because it is considered to be outdated since it uses "proof of work". This means that all transactions and assets' tracking in the Bitcoin blockchain is done using powerful computers for problem-solving — "mining". Once the problem is solved and a "miner" has the "proof of work" for it, he earns bitcoins. "Proof of work" is not scalable and the computers involved require immense amounts of energy. This makes it unsustainable in the long run. The mechanism was ingenious 10 years ago, but now it doesn't justify the CO2 footprint it generates, considering the increasing number of transactions.
Thinking of the future, developers have created a more scalable and environmentally friendly method, called "proof of stake", which calculates the reward based on the coins held by a miner.
Proof of stake is a collaborative approach that splits the reward between validators, while proof of work is a "winner takes it all" approach that bears less when it comes to network development and growth in general. Proof of stake makes transactions faster and less computing power is needed, therefore less electricity, too. Thus, proof of stake is the future.
How can you make money out of this without mining for coins?
Mining
In the American gold rush, the gold diggers started with a simple shovel and a kitchen strain. Once the gold became scarce, they had to use more advanced tools. It is said that the ones who truly got rich those days were the shovel and jeans makers. The comparison might lack creativity, but digging for Bitcoin went through a similar timeline: at the beginning, you could use an average computer, but then once the coin scarcity increased and the problems became more difficult to solve, while the transactions number increased, the miners needed more powerful computers, specially designed for this purpose. You missed this train! Is too expensive to join the Bitcoin miners-band now and the community is exclusivist.
Lending
As with classic coins, crypto can be bought and lent and the borrowers pay interest to you. For example, the BlockFi platform acts as a marketplace (middleman) and the interest rate for Bitcoin is 8%. By lending, you avoid the volatility of the crypto market and you can make a passive income.
Some cryptocurrencies also pay rewards (the blockchain version of the classic dividends), such as Tezos, VeChain, NEO, and Cosmos — via the Coinbase platform. The payout of rewards is small but steady.
Staking
If you own cryptocurrencies that operate on proof of stake, you can stake your coins. This is another form of lending, but you don't need borrowers or a third party. You stake your coins to the network to secure the network and validate transactions. You receive rewards in additional coins from the network, like earning interest. The more you stake, the more coins you receive.
Staking is the REAL passive income between mining, lending, or trading. Once you stake the coins, you don't need to invest any time, energy, or brainpower in managing the coins.
Are there profits?
Staking is as profitable as mining or trading, minus the risk. Of course, it's important to choose the coin you stake wisely. It should be one that has low inflation and volatility and has a sustainable blockchain infrastructure, long-term projects, etc. Many PoS (proof of stake) cryptos are available for staking currently — e.g.: Titan, DASH, Tezos, EOS.io, etc. We recommend Elrond / eGold and you can read on to find out why.
What to check in a coin before staking
Here are 4 important things to consider when choosing the coins you invest in and then stake:
Fixed supply — make sure there is a maximum supply of the coin and thus, the market is limited. This ensures a healthy demand and price increase in the long run.
Real-usage — the crypto you choose should have a practical use, such as being used by companies in one of the industries we gave as examples at the beginning of the article, or other similar ones. There are many coins that weren't created with a practical goal in mind.
People behind — make sure the team has skin in the game and the company is trustworthy, that wants to build on the long-term.
Ecosystem build around the coin — for example, Elrond has invested in building the Maiar App, the Maiar Exchange, and more features will follow (e.g. lending and borrowing, Maiar Launchpad, NFTs, etc.). Other coins are focused on specific elements, not on building an ecosystem.
Why you should choose to stake EGLD
Here is our take on this, at Disruptive Digital — official staking provider with a successful track record in staking eGold from Elrond:
"The profitability for staking EGLD varies between 12% and 17% depending on how many people are staking. This is short-term. In the long term, the economic model is deflationary, meaning that fewer coins will enter the network each year.
There is a "catch" though. If the fee that is generated by the projects that are run on the network overpasses inflation — meaning the number of coins that are generated by the network is covered from fees — then the network becomes self-sustainable and the capitalization will stay on a lower level than the one proposed.
For example, right now there are about 19.5 million EGLD (July 27, 2021). Every year, a certain percent of EGLD is entered into the network. Let's say in 2 years there will be enough projects that will generate enough fees and inflation will be 0.
Then the existing EGLD can remain at, let's say 25 million, and it will not increase as long as the fees cover that inflation. Getting back to profitability — called APR (annual percentage rate) — if the EGLD generated from the fees will be in a bigger volume than the inflation, then the APR can increase without a limit. It's like this because all the income from the fees generated in the network will go to the validators minus 10% which is Elrond Foundation's commission for development." — Daniel Sîrbu, Founder and CEO, Disruptive Digital
În acest articol vom analiza și descrie tehnologia blockchain în termeni ușor de înțeles. Sunt multe surse care au scris în ultima vreme despre blockchain și legder-uri, despre cum monedele descentralizate au potențialul de a schimba lumea, despre cum este mult prea târziu ca să mai devii bogat cu Bitcoin și despre încă un lucru foarte interesant - încrederea - și cum acest concept prinde noi valențe. Dar ce înseamnă de fapt toate astea?
Nu mai surprinde pe nimeni faptul că acest concept de blockchain a luat amploare în ultimii ani și a devenit din ce în ce mai fascinant pentru oameni la nivel global. Dar nu e doar asta. Blockchain-ul deja schimbă cu totul sistemul financiar, așa că e timpul să îl privim cu responsabilitate.
Dar să începem cu începutul: ce este un blockchain?
Așa cum indică în mod evident și numele, blockchain-ul este un lanț de blocuri.
Ficare bloc conține 3 lucruri: informație, eticheta unică a blocului (denumită hash) și hash-ul blocului precedent.
Fiecare bloc/cutie poate stoca aproape orice tip de informație, în funcție de tipul blockchain-ului: dacă vorbim de blockchain-ul financiar, ne referim la registrul tranzacțiilor, însă pot fi și alte tipuri de date: imagini, linkuri, informații despre un anumit subiect. În acest articol ne vom focusa pe istoricul tranzacțiilor. Acesta poate stoca următoarele detalii: expeditorul, valoarea tranzacției și destinatarul sumei. De exemplu, Ana îi trimite 100 de dolari lui Alex. Aceasta este doar una din tranzacțiile din acea listă. De asemenea, aici poți citi mai multe despre subiectul contractelor inteligente. Tranzacțiile sunt schimburi de monede în anumite condiții stabilite care le fac stocabile pe blockchain.
Revenind la celelalte elemente ale unui bloc, hai să trecem la hash. Hash-ul este de fapt o amprentă digitală criptată. Aceasta înseamnă că este unică, la fel ca o amprentă. Se calculează imediat ce a fost creat blocul și, dacă există modificări la acest bloc, hash-ul se va schimba.
Al treilea element, care este hash-ul blocului anterior, creează lanțul de blocuri care asigură securitatea blockchain-ului.
Să presupunem că avem 10 blocuri/cutii în lanț: fiecare bloc are un hash și hash-ul blocului anterior. Singurul bloc care nu are un hash din blocul anterior este, desigur, primul bloc creat, denumit și "Genesis Block".
Ei bine, dacă hash-ul unui bloc a fost modificat după ce a fost validat de toată lumea, toate blocurile următoare vor deveni invalide. Și asta pentru că nu mai stochează un hash valid al blocurilor anterioare.
Toate calculatoarele din rețea trebuie să permită modificările înainte ca acestea să apară, prin urmare putem spune că este o permisiune bazată pe consens.
Deci fiecare bloc nou din acest lanț este ștampilat pentru a stabili o ordine cronologică, iar procesul de hashing demonstrează că blocul este calificat pentru a fi adăugat la lanț. Fiecare bloc nou este identificat și validat prin hash-ul său, care a fost stabilit luând în considerare datele din blocurile anterioare. Este un lanț neîntrerupt - un blockchain - care duce până la primul său bloc.
Lucrurile încep să prindă contur, dar ce anume face un blockchain?
Ei bine, răspunsul este complex, dar nu greu de înțeles.
Blockchain-ul este un registru distribuit deschis tuturor, care poate înregistra tranzacțiile între două părți într-un mod eficient, verificabil și permanent, fără un intermediar terț.
La cel mai de bază nivel tehnologic, un blockchain este o înregistrare a faptelor și stabilește lucrurile, astfel încât ar fi imposibil să schimbi datele odată înregistrate sau să distrugi ceva. Prin urmare, blockchain este un registru care confirmă câteva lucruri:
- proprietate
- identitate
- status
- autoritate
Care e legătura cu încrederea?
Blockchain este un nou tip de bază de date, care este distribuit mai mulor participanți. Actualizările sunt întotdeauna adăugate în această bază de date la sfârșit și nu prin datele vechi. Asta înseamnă că, odată ce datele sunt acolo, nu pot fi șterse sau modificate în niciun fel. Toate modificările sunt capturate pur și simplu ca blocuri noi. Această caracteristică se numește imuabilitate.
Astfel, este imposibil ca cineva să șteargă un bloc anterior fără a încerca să distrugă toate blocurile următoare. Dar, deoarece toate blocurile ulterioare au fost deja validate de toată lumea, încercarea este imposibilă.
Tehnologia blockchain este imună la manipularea tranzacțiilor. Cu proprietatea de a distribui înregistrările către toți membrii rețelei pentru a fi verificate, este imposibil să se manipuleze datele, deoarece prea mulți oameni au o copie a originalului.
Asta e ceea ce numim descentralizare. Acest lucru înseamnă că nimeni nu poate juca rolul personajului negativ și să producă încurcături cu banii tuturor. Este o bază de date fără guvernare a autorității centrale.
Fiecare participant din această rețea deține, în același timp, o copie identică a bazei de date blockchain în calculatorul său. Prin urmare, înregistrarea digitală și semnătura tranzacțiilor sunt identificate, validate, stocate și apoi distribuite tuturor. Deci blockchain ține evidența tuturor modificărilor precum un registru contabil, dar unul superior: un registru distribuit.
Blockchain-urile folosesc o rețea descentralizată pentru a facilita tranzacția între părți. Așadar, spre deosebire de băncile care preiau custodia pentru efectuarea plăților, blockchain-ul transferă bani fără un terț ca intermediar. Acest lucru se numește Protocolul de încredere. Deoarece platforma în sine se bazează pe conceptul de încredere.
Deci, dacă Ana vrea să îi trimită 100 de dolari lui Alex, nu există nicio instituție financiară prin care să fie transferați banii. Nu este nevoie de un intermediar sau de un terț, precum avocați, bănci, brokeri etc. Acesta este potențialul imens pe care îl are blockchain-ul.
Ce putem spune despre Bitcoin?
Pentru a înțelege Bitcoin așa cum este astăzi, trebuie să vorbim puțin despre istoria internetului și a calculatoarelor.
În anii '80, au existat multe probleme cu confidențialitatea, securitatea și integrarea pe internet. În acea perioadă au apărut pentru prima dată algoritmii care susțin criptomoneda modernă.
Aproape 2 decenii mai târziu, informaticianul și pionierul blockchain-ului Nick Szabo a dezvoltat Bit Gold, predecesorul Bitcoin, o proto-criptomonedă care nu a fost niciodată implementată, dar care avea multe în comun cu caracteristicile Bitcoin în ceea ce privește tranzacțiile și rețelele descentralizate. De asemenea, funcționa pe algoritmul proof-of-work care implică puterea calculatorului în rezolvarea puzzle-urilor criptografice.
Apoi au apărut cele 9 pagini din cartea albă trimisă de misteriosul Satoshi Nakamoto în octombrie 2008, descriind tehnologia fără precedent care va schimba lumea - Bitcoin: A Peer-to-Peer Electronic Cash System.
El a conturat un nou sistem de bani electronici de la persoană la persoană folosind o criptomonedă numită Bitcoin - care a câștigat faimă extraordinară și o tracțiune la scală largă. Putem spune fără îndoială că Bitcoin a definit și a evidențiat importanța blockchain-ului.
Dar ... există mai mult decât "dar". Bitcoin este rar și are limitările lui. Una dintre cele mai importante probleme este scalabilitatea. Mai mult decât atât, concurența pentru "mineritul" celor câteva milioane de Bitcoin rămase de revendicat este din ce în ce mai grea. Pentru că necesită cunoștințe, echipamente scumpe și electricitate, ceea ce poate fi inaccesibil sau foarte scump pentru majoritatea lumii.
Astfel, din perspectiva sustenabilității, Bitcoin nu câștigă. Consumul masiv de energie pentru mineritul Bitcoin nu poate fi echilibrat cu energie regenerabilă. Acesta este motivul pentru care au început să fie necesare criptomonede alternative - precum Elrond.
Elrond folosește un mecanism mai evoluat, proof-of-stake. Acest lucru nu necesită puterea de calcul și energia enormă pe care le presupune Bitcoin. Credem cu adevărat în acest ecosistem sustenabil și în acest blockchain public foarte scalabil. Acesta e viitorul!
Ecosistemul Elrond aduce o mare îmbunătățire a vitezei blockchain, a scalării și a experienței utilizatorului. Blockchain-ul Elrond poate susține până la 15000 de tranzacții pe secundă, ceea ce poate fi comparată cu viteza luminii față de capacitatea Bitcoin de 7 tranzacții pe secundă.
Mai mult, Elrond este extrem de scalabil, permițând prelucrarea multor tranzacții în același timp și, de asemenea, operează pe baza unui algoritm sigur și eficient de proof-of-stake.
Vom vorbi mai multe despre asta într-un alt articol.
Concluzie
Un lucru este sigur: blockchain-ul va schimba foarte mult sistemul financiar și economia. Revoluția blockchain se concentrează pe autonomia individuală și pe capitalismul uman. Vom putea reproiecta structuri profunde de inovație și va fi o schimbare majoră de paradigmă. Când și cum? Vom aprofunda în acest sens în următoarele articole.
Misiunea și responsabilitatea noastră este de a împărtăți cunoștințele și experiențele noastre și de a contura împreună cu voi ce înseamnă această schimbare digitală.
In this article, we will talk about blockchain technology in very basic terms. There are a lot of sources that talk about blockchain and ledgers, about how decentralized currencies have the power of changing the future, about how "the ship has sailed" on becoming rich with Bitcoin, and how the word "trust" has gained power again. But what do all these actually mean?
It's no surprise that the word "blockchain" made a fuss in the past years and it has become more and more fascinating to people all around the world. And not only that, but the blockchain is already disrupting the financial system. So it's time to look at it responsibly.
First things first: what is a blockchain?
As the name says it pretty obviously, a blockchain is a chain of blocks.
Each block contains 3 things: a bunch of data, the hash of the block, and the hash of the previous block.
The data stored on the block can be almost anything, depending on the type of the blockchain. If we talk about money, we're talking about transaction records, but it can be any other type of data: pictures, links, information about a specific topic. For the sake of the article, we will focus on the history of transactions. It can store the following details: the sender, the amount of the transaction, and the receiver of the amount. For example, Anna sends 100 dollars to Alex. This is only one of all the transactions on that list. You can also check the topic of the smart contracts, as they are also part of this data that can be stored on the blockchain. Transactions are exchanges of coins based on some conditions that make them storable on the blockchain.
Ok, getting back to the other elements of a block, let's move on to the hash. The hash is actually an encrypted digital fingerprint. This means it's unique, just like a fingerprint. It's calculated as soon as the block it's created, and if there are modifications to this block, the hash will change.
The third element, which is the hash of the previous block, creates the chain of blocks that's making the blockchain secure.
Let's say that we have 10 blocks in the chain: each block has a hash and the hash of the previous block. The only block which doesn't have a hash of the previous block it's, of course, the first-ever created block, which it's called the "Genesis Block".
Well, if the hash of a block has been changed after it was validated by everyone, all of the following blocks will become invalid. And this is because they no longer store a valid hash of the previous blocks.
All computers in the network have to allow the changes before they occur, therefore we can say it's consensus-based permission.
So, the new block in the link is stamped in order to establish a chronological order, and the hashing process proves that the block is qualified to be added to the chain. Each new block is identified and validated by its hash which was established taking into account data from previous blocks. It's an unbroken chain - a blockchain - which leads all the way back to its very first block.
OK, things start to make sense, but what exactly does a blockchain do?
Well, the answer is complex, but not hard to understand.
Blockchain is a distributed ledger that's open to everyone and that can record transactions between two parties in an efficient, verifiable, and permanent way, without a third-party intermediary.
At its most basic technological level, a blockchain is a recording of the facts and is time-stamping things so that it would be impossible to backdate or to temper with them. Therefore, blockchain is a ledger that confirms a few things:
ownership
identity
status
authority
What about trust?
Blockchain is a new kind of database, which is shared across a number of participants. Updates are added to this database. Always at the end of it and not through the old data. This means that once the data is there, it cannot be erased or modified anyhow. All changes are simply captured as new blocks. This characteristic is called immutability.
Thus, it's impossible for someone to erase an earlier block without attempting to destroy all the following blocks. But as all of the following blocks were already validated by everyone, the attempt is impossible. So this is important because blockchain is time-stamping things in a way that cannot be manipulated or tampered with.
Another paramount thing is that blockchain technology is bulletproof when it comes to manipulation in transactions. With its attribute of distributing the records to all the members of the network to be verified, it's impossible to tamper with the data because too many people have a copy of the original.
This is what we call decentralization. This means that no one can be evil and mess with everyone's money. It's a database with no central authority governance.
Each participant on this network holds, at the same time, an identical copy of the blockchain database on their computer. Therefore, the digital record and signature of the transactions are identified, validated, stored, and then shared with everyone. So blockchain keeps track of all changes, like an accounting ledger, but a superior one: a distributed ledger.
Blockchains use a decentralized network to facilitate the transaction between parties. This means that, unlike the banks which take custody conducting payments, the blockchain transfers money without a third party as a middleman. This is also called The Trust Protocol. Because the platform itself is based on the trust concept.
So if Anna wants to send 100 dollars to Alex, there is no financial institution through which the money will be transferred. There is no need for an intermediary, or a third party such as lawyers, banks, brokers, and so on. This is the huge potential that blockchain has.
What's the catch with Bitcoin?
To understand Bitcoin as it is today, we need to talk a bit about the history of the internet and computers.
Back in the '80s, there were many problems with privacy, security, and inclusion on the Internet. It was that period in time when the algorithms that support modern cryptocurrency appeared for the first time.
Almost 2 decades later, the computer scientist and blockchain pioneer Nick Szabo developed Bit Gold, the predecessor of Bitcoin, a proto-cryptocurrency that was never implemented but had a lot in common with Bitcoin's features regarding transactions and decentralized networks. It also operated on a proof of work algorithm which involves computer power in solving cryptographic puzzles.
And then the world was disrupted with the 9-page white paper sent by the mysterious Satoshi Nakamoto in October 2008, describing the disruptive technology - Bitcoin: A Peer-to-Peer Electronic Cash System.
He outlined a new peer-to-peer electronic cash system using a cryptocurrency called Bitcoin - which gained tremendous fame and widespread traction. We can undoubtedly say that Bitcoin defined and highlighted the importance of blockchain.
But...there is more than one "but". Bitcoin is scarce and has limitations. One of the most important problems is scalability. And more than this, the competition for "mining" the few millions of Bitcoin left to be claimed is harder and harder. Because it requires knowledge, expensive equipment, and electricity. All in all inaccessible or unaffordable for most of the world.
Thus, from a sustainability perspective, Bitcoin is not a winner. The massive energy consumption for mining Bitcoin cannot be fixed with renewable energy. This is the reason why alternative cryptocurrencies - like Elrond - were needed.
Elrond uses a more evolved mechanism, the proof of stake. This doesn't require the enormous computing power and energy required by Bitcoin. We truly believe in this sustainable ecosystem and highly scalable public blockchain. It's the future!
The Elrond ecosystem brings a great improvement in the blockchain speed, scale, and user experience. The Elrond blockchain can sustain up to 15000 transactions per second, which is like the speed of light compared to Bitcoin's capacity of 7 transactions per second.
Moreover, Elrond is highly scalable, enabling many parallel transactions processing, and also operates on a secure and efficient proof of stake.
We'll talk more about it in a future article.
Conclusion
One thing is for sure: blockchain will disrupt the financial system and the economy greatly. The blockchain revolution is centered on individual autonomy and human capitalism. We will be able to re-engineer deep structures of innovation and it will be a major paradigm shift. When and how? We will dig deeper into this in our next articles.
Our mission and responsibility is to work on sharing our knowledge and to create together a clear understanding of what this digital disruption means.